Hello, every piggy! Today I am going to be asking 5 questions about Peppa Pig that I don't understand. 
Question 1 - Why isn't George's name Paul, Percy or Phillip?
Edit
Everyone else's name is alliterated (e.g. Suzie Sheep, Zoe Zebra etc.) It would be better if George's name would be changed to Percy, Paul or Phillip, but George is still an adorable name for a little piggy.
Question 2 - Why does Miss Rabbit occupy most of the jobs?
Edit
This poor rabbit seems to do every single job going; she pilots the helicopter, works the supermarket checkout, drives the train and is ticket clerk at every venue from the ice rink to the aquarium and more! 
It's no surprise that Miss Rabbit has been dubbed 'hardest working person in the country' by the Queen!
Question 3 - Why is the Queen the only human?
Edit
Everyone (apart from the queen) is either an animal or a mammal. But the Queen....
WHY?! 
Question 4 - Why can only the mammals speak?
Edit
The sheep, pigs, ponies, gazelle, squirrels and more are all anthropomorphized, talking away and living in homes. Even the random Mr Potato can talk! (huh) Yet ducks. parrots, spiders and others are simple animal life. Why such discrimination?
Question 5 - Why is Edmond Elephant such a clever clogs?!
Edit
Honestly, this elephant is actually cleverer than a majority of the adults, most of the children and more! Honestly, how on earth does he know all of this at this age?! Does his mum have extreme learning lessons or what?!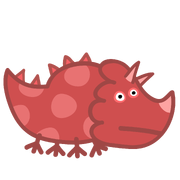 Bonus question: Does Mr. Fox really have everything in his van?
If he has everything in his van, he could... he could...
I don't mean to be selfish about the show, it's just that the questions are mind-boggling!
Signing off until next time, 
Amazingcocoguy923.