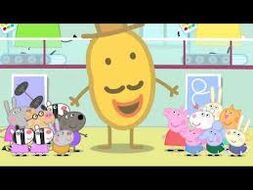 ​The Mr. Potato Show
 is a very popular children's TV show in the
Peppa Pig
universe. It is all about being fit and healthy. A traditional episodes includes
Mr. Potato
, the star of the show, encouraging the audience to jump up and down with him and presenting fan mail to them.
There have also been other Mr. Potato shows where Mr. Potato appears with Mademoiselle Potato as either a detective or his normal self. It is unknown whether those shows are linked to this one.
Ad blocker interference detected!
Wikia is a free-to-use site that makes money from advertising. We have a modified experience for viewers using ad blockers

Wikia is not accessible if you've made further modifications. Remove the custom ad blocker rule(s) and the page will load as expected.