Potato City
Season 4, Episode 1
Overall episode
158
Air date
23 May, 2011
Episode guide
Previous
Santa's Visit
Next
The New House
Video
Peppa and her family are going to Potato City!
Trivia
The wolves makes their debut.
Quotes
Mr. Potato: "Welcome to Potato City!" Where the magic of vegetable's never ends!"
Suzy: "Why do you have dinosaur's in Potato City?"
Mr. Potato:"Cause dinosaurs ate potatoes?"
Edmond Elephant:"NO!"
Mr. Potato:"Anyway, children like dinosaurs!"
Mr. Potato: "You don't need to be frightened. They're not real. But they look exactly the same as the dinosaurs that walked together millions of years ago."
Edmond Elephant: "No they didn't."
Mr Potato: "What?!"
Edmond Elephant: "Triceratops lived in the Cretaceous Period. Stegosaurus was Jurassic. They could not have walked together."
Mr. Potato:"Er... how do you know that?"
Edmond:"I'm a clever clogs!"
Mr. Potato:"Role-up role-up for the Round About Swing Thing!"
Narator:"Daddy Pig dosen't like heights!"
Mr. Potato:"See how vegetables grow! Learn how they keep us fit and healthy!"
Miss Rabbit:"Busy? No, this is quiet for Potato City!"
Mr. Potato:"And ride on the Potato Rocket!"
Video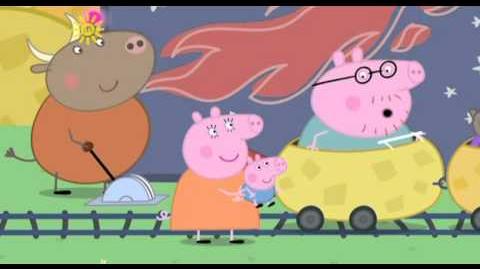 Ad blocker interference detected!
Wikia is a free-to-use site that makes money from advertising. We have a modified experience for viewers using ad blockers

Wikia is not accessible if you've made further modifications. Remove the custom ad blocker rule(s) and the page will load as expected.