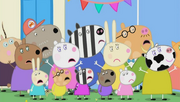 Peppa, her family, and her friend's go to the new sport's center to see Mr. Potato open it up!
How is the episode?
Peppa and her family are seeing Mr. Potato on TV talking to do the exercises and speak the names of fruit and say that they have to do so thereafter. Peppa and her friends think it is mr. potato they go someplace to see them and through which he arrived Peppa and her friends were happy for that and after that, mr. potato inaugurated the gym to exercise and everyone was happy. When he entered Peppa and her friends saw their country among the others do exercises. Mr. and potato peppa and her friends were chatting and went to school to draw some things after that. Peppa and her family were watching TV than talking Mr. Potato Peppa draw Dad pig watching TV.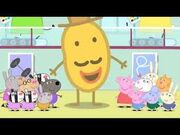 Ad blocker interference detected!
Wikia is a free-to-use site that makes money from advertising. We have a modified experience for viewers using ad blockers

Wikia is not accessible if you've made further modifications. Remove the custom ad blocker rule(s) and the page will load as expected.