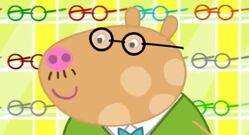 Mr. Pony is a character in Peppa Pig.
Bio
He is an optician who helps Peppa test her eyes. He can also be Daddy Pig's football player along with Mr. Bull, Mr. Rabbit and Mr. Zebra. He has a son named Pedro Pony. His wife is Mummy Pony.
Trivia
He is the father of Pedro Pony.
In one episode, by error, he prescribed a pair of glasses to Peppa.
Ad blocker interference detected!
Wikia is a free-to-use site that makes money from advertising. We have a modified experience for viewers using ad blockers

Wikia is not accessible if you've made further modifications. Remove the custom ad blocker rule(s) and the page will load as expected.